Men's League
PSBL Offers Men's Leagues on Sundays, Mondays, Tuesdays, Wednesday and Thursday nights. Seattle and Tacoma league options: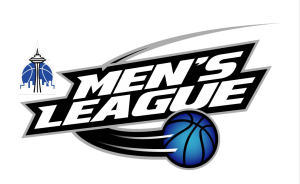 We offer play for "Teams" and "Individuals." There are normally 3-5 divisions of play and games are played around the Sound based on a team's geography (See gym directions). Most teams can expect 5-6 "Home Games" and 3-4 "Away Games." Games are not all played at the same gym.
QUALITY COMPETITION – Unmatched by any other League, PSBL moves teams up and down divisions on a weekly basis to create the best possible match-ups. Teams are NOT stuck in one division for an entire Session. It is PSBL's goal for each game to be within 5-15 pts and will move teams appropriately to find that team's parity level. Our philosophy is that "blow outs" are bad for both teams.
NO FORFEITS – There are no forfeits in PSBL. We make "a game" in every possible situation. We have been known to: play 4 on 4, pick up players hanging around the gym, have an official play, steal players from the other team, etc. The PSBL theory is that since you traveled to the gym, you deserve to play. Period! Our officials are trained to "make a game" in every situation. Forfeits only occurred .1% of the games last year.
YEAR-ROUND PLAY – PSBL offer games 51 weeks a year!
DAMP TOWEL SWEPT FLOORS – This is a fundamental difference between PSBL and other "rec. leagues." Before PSBL enters each gym, we sweep the dirt and dust off the floor with a damp towel to create the cleanest surface possible for the best possible grip. This makes all the difference to you…THE PLAYER.
UNIQUE DIVISIONS OF PLAY – On Mondays, Wednesdays, Thursdays, and Sundays PSBL organizes Men's Leagues in 3-5 different skill divisions. Unlike other recreational leagues, PSBL monitors games on a bi-weekly basis and moves teams up and down divisions based on their scores. Teams are not stuck in the same division.

SKILL DIVISION DEFINITIONS – D1: 2-3 ex-college players, D2: all ex-high school players, D3: all recreational players, D4: 2-3 rec. players, 2-4 new players, D5: all players who've never played organized basketball before. Remember, PSBL will find teams' parity levels after 2-3 weeks, so the listing of a team's skill division will ultimately be proven by the results of their game scores.
GAME LOCATIONS – PSBL guarantees teams 4-5 home games per session. Please indicate on the Registration form what LOCATION your team is from. You will not play all of your games in one gym. Remember, while teams are traveling to play you, you should naturally travel to play them.
NEVER TOO LATE TO SIGN-UP – PSBL offers leagues year-round and normally we can fit teams in mid-session. If not, the next session is only a few weeks away. Costs are pro-rated for teams starting mid-session.
CHECK THIS WEBSITE – The website will always have your payment status and schedule. Schedules are released 3 days before your game.. Click on the "Sunday Schedule", "Monday Schedule, "Tuesdays Schedule""Wednesday Schedule", and "Thursday Schedule" buttons on the website and scroll down.
SCHEDULE CHANGES – Always make sure to check the site the day of your game to verify your schedule. Changes do occur.
JEWELRY – Jewelry of any kind is not allowed in the league.
UNIFORMS – Teams must have jerseys of the same color, same material, and with a number. No bandanas (dew rags) or bracelets are allowed. This includes LIVESTRONG bands. Undershirts have to be the same color of the jersey. No exceptions.
PASSIONATE COMPETITION, while PEACEFUL & RECREATIONAL – This is a recreational league that offers passionate, yet competitive and SAFE games. Vulgar behavior, such as profanity and violence, will not be tolerated. We have banned and suspended players. Just play ball.