Women's League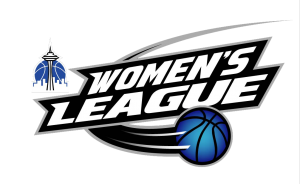 Women's Individual Program Roster
Women's Individual Program Registration
PSBL offers Women's Leagues  for "Teams" and "Individuals" year-round on Tuesday nights. There are 3 divisions of play. (Currently there are over 20 teams) Games are played in 1-3 gyms in Seattle and Shoreline.
Additionally, PSBL runs a Co-Ed league on Sundays with 2-3 divisions of play. "Teams" and "Individuals" are welcome to join this league also.
PSBL's Women's Players Have 5 options to play:
PSBL's Sunday Co-Ed League
PSBL's Tuesday Women's Only League and Women's Hoops on Demand League games
PSBL's Tuesday Elite Women's League (College Skill Players)
PSBL's Saturday Morning Hoops program
Women are also allowed to play in PSBL's Men's Leagues, but we will not place Individual Registrations in the Men's League – Female players must already be part of an established "Men's" team.
YEAR-ROUND PLAY – PSBL offers games 51 weeks a year.
DAMP TOWEL SWEPT FLOORS – This is a fundamental difference between PSBL and other "rec. leagues." When PSBL enters each gym, we sweep the dirt and dust off the floor with a damp towel to create the cleanest surface possible for the best possible grip. This makes all the difference to you…THE PLAYER.
UNIQUE DIVISIONS OF PLAY – PSBL organizes Women's Leagues in 3 different skill divisions. Unlike other recreational leagues, PSBL monitors games on a bi-weekly basis and moves teams up and down divisions based on their scores. Teams are not stuck in the same division. PSBL takes every precaution to avoid blow-outs.

NO FORFEITS – There are no forfeits in PSBL. We make "a game" in every situation. We have been known to: play 4 on 4, pick up players hanging around the gym, have an official play, steal players from the other team, etc. The PSBL philosophy is that since you traveled to the gym, you deserve to play. Period! Our officials are trained to "make a game" in every situation. Forfeits only occurred in .1% of games last year.

NEVER TOO LATE TO SIGN-UP – PSBL offers leagues year-round and normally we can fit teams in mid-session. If not, the next session is only a few weeks away. Costs are pro-rated for teams starting mid-session.
CHECK THIS WEBSITE – The website will always have your payment status and schedule. Schedules are released every week. Scroll to the "Schedules" button and click on the "Tuesday Schedule" button to find the Individual Program roster, Team Cover Page, and Schedule.
SCHEDULE CHANGES – Always make sure to check the site the day of your game to verify your schedule. Changes do occur.
JEWELRY – Jewelry of any kind is not allowed in the league.
UNIFORMS – Teams must have jerseys of the same color, same material, and with a number. No bandanas (dew rags) or bracelets are allowed. This includes LIVESTRONG bands. Undershirts have to be the same color of the jersey. No exceptions.
PASSIONATE COMPETITION, while PEACEFUL & RECREATIONAL – This is a recreational league that offers passionate, yet competitive and SAFE games. Vulgar behavior, such as profanity and violence, will not be tolerated. We have banned and suspended players. Just play ball.